Disease Management Experience
Ginger was Chief Marketing Officer and Senior Vice President of New Business Development for Lindora Medical Weight Control from 2002 to early 2009. Lindora, Inc. is the largest operator of medically based weight loss treatment centers in the United States. Over the past 38 years, Lindora® has focused primarily on offering its products and services to southern California residents. As a result of maintaining focus on the Southern California area, Lindora enjoyed high brand awareness in the market area. In addition, awareness of Lindora within the national and international medical community is significant.
In addition to the overall marketing and new business development for the company, she was also responsible for the on-going operations management of the Lindora Online® program, the first and only medically-based online weight loss program. The online program is a behavior-modification, nutritional therapeutic lifestyle change program that combines a suite of online tracking tools, telephone coaching with nurse educators, and outbound prompts designed into Lindora's proprietary software system. Based on the clinical treatments of over 1,000,000 patient visits in the Lindora weight loss clinics in Southern California, Lindora Online treats people all over the world. In addition, the Lindora cyber-store provides patients with the best protein and nutritional supplements available to support a holistic approach to weight loss.
Toward the end of 2005, Lindora made a strategic decision to expand its highly-effective weight control programs and products on a national level. This became Ginger's primary focus from 2005 until she left the company in February, 2009. In an effort to rapidly penetrate a significant portion of the U.S. market, Lindora elected to pursue strategic retail partners that would benefit from an in-store Lindora clinic and provide a new distribution channel for its products. In September 2006, the company entered into its first retail strategic partnership agreement with Rite Aid® Corporation, providing wellness and weight loss services to its customers within selected drugstores throughout Southern California. In addition, Lindora sells selected Lindora branded products in Rite Aid stores regardless of whether they house Lindora Health Clinics. Although Lindora Health Clinics are not the first healthcare services facility to be placed within a retail drugstore, it was the first to offer the unique combination of chronic care with acute care. By adding medically supervised weight loss services which require repeated return visits to more conventional acute care services involving non-recurring visits (e.g., flu shots, vaccinations, skin irritations), Lindora represents a far more synergistic partner to retailers because of its ability to drive incremental customer traffic to the stores multiple times a week. Sales from Lindora branded products, including books, tapes/DVDs and high-protein nutritional items, provide a unique, added benefit to retailers not afforded by collaborating with other acute care providers
Another example of Ginger's work at Lindora, Inc. is the strategic alliance developed with Allergan®. Exclusively for Allergan, Lindora created a new online weight-loss management program called, the LAP-BAND® System Therapeutic Lifestyle Change Program (LAP-BAND® TLC). The LAP-BAND® TLC Program was designed to address the specific needs of patients in adopting a healthy lifestyle and diet following the LAP-BAND® Adjustable Gastric Banding System procedure and facilitate sustained weight loss. The Program supplements the services provided by bariatric surgeon offices, and offer additional nutritional guidance by medical professionals and nutritionists and a suite of online weight-loss management tools, offering patients personalized support to help them lose weight. The LAP-BAND® TLC Program is offered exclusively to post-surgery LAP-BAND® System patients and is available via www.lapband.com and through bariatric surgeon offices across the country. MORE >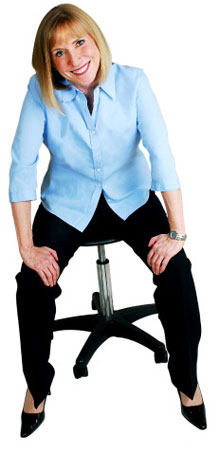 "Aha! provides a unique blend of perspective experience and creativity that can help you achieve your goals."
"Ginger and her partners create and nurture relationships with key thought leaders across a variety of industries"
"Aha! helps clients gain greater benefits from their natural talents."
"Ginger understands the big picture while paying attention to the fine details."
"Aha! develops individual talent and disciplines across all types of companies - small and large."
"Aha! is nimble, smart and responsive to your company's needs and deadlines."
"Ginger is a creative and thoughtful leader who inspires those she works with to achieve more than they ever thought they could."