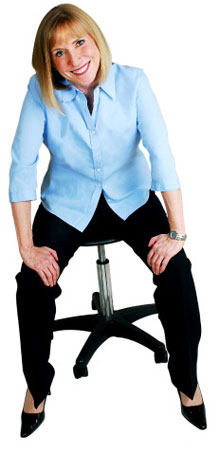 "Aha! provides a unique blend of perspective experience and creativity that can help you achieve your goals."
"Ginger and her partners create and nurture relationships with key thought leaders across a variety of industries"
"Aha! helps clients gain greater benefits from their natural talents."
"Ginger understands the big picture while paying attention to the fine details."
"Aha! develops individual talent and disciplines across all types of companies - small and large."
"Aha! is nimble, smart and responsive to your company's needs and deadlines."
"Ginger is a creative and thoughtful leader who inspires those she works with to achieve more than they ever thought they could."
Creative Business Solutions. Served Fresh Daily.
Ask Ginger Silverman to "think outside the box," and her response will likely be: "What box?"
That sums up the Aha! Unlimited Consulting "big vision approach" to solving business problems. Whether you're looking to brand your business, develop new markets, launch a dynamic new advertising or public relations campaign, reinvent your company's culture or grow your business to new heights, Ginger and her network of creative resources bring a unique blend of perspective, experience and creativity that can help you achieve your goals.
Ginger's personal philosophy of life is simple: From every challenge comes an opportunity. And that's exactly why Aha! has flourished. After her senior management position was eliminated during the 2008 recession, Ginger became the self-appointed "Queen of Networking." She met with Southern California business leaders, recently transitioned colleagues, and others within the business and nonprofit communities. They had recently "right-sized" their companies in response to their own business challenges, and soon found themselves in need of proven professional support. But they weren't necessarily in a position to hire full-time team members.
Ginger saw an opportunity to provide the highest level of marketing, creative and organizational development solutions'as a consultant. Her clients saw the business elegance in this solution'access to top-notch, Fortune 1000-grown expertise without having to make a long-term commitment. Aha! Unlimited Consulting Inc.'which Ginger founded in 2002 before being hired full-time by one of her clients'was reborn.
Aha! is the strategic, creative partner you've been looking for. Aha! helps businesses and nonprofits excel by providing a host of creative and strategic consulting services, including:
Company and Product Positioning and Branding
Product Launch
Marketing, Advertising, Media, Public Relations
and Project Planning
Commercialization of Products and Services
Project Planning and Direction
New Business Development
Market Research
Ginger also offers:
Leadership Skills Workshops and Personalized Training
Executive Coaching
Management Team Training, including 360 degree assessments and resulting development plans
Company Culture Transformation
Change Management
Employee Engagement
Strategic Consultation
Learn more about customized workshops, coaching services, training programs and assessments.
[+] Read more
Aha! Delivers. On Target. On Time. And On Budget.
Ginger and her team of business problem solvers work with an entrepreneurial business metabolism. No long-winded strategy documents. No centurion production schedules. No bloated budgets. (Unless, of course, you like that sort of thing!)
They're nimble, smart and responsive to your company's needs and deadlines. They hit the ground running and quickly identify your project's sweet spot, bringing with them a unique, powerful combination of Fortune 1000 experience and entrepreneurial enthusiasm and energy.
And because Ginger and her team have decades of experience in managing multi-million dollar budgets and working with—and for—Madison Avenue marketing agencies, they possess an A-list arsenal of cost-effective business solution and creative resources that can get the job done quickly and efficiently. With Aha! as your business ally, you'll achieve results faster—and have a whole lot more fun during the process.
[+] Read more
Aha! Is A Group You Can Trust.
Ginger and her team believe in karma. She won't gig you today and let tomorrow take care of itself. She invests in her partners— creatively, intellectually and emotionally.